Day 1 & 2: Camping in the Xakanaxa/ 3rd Bridge Area of the Moremi Game Reserve & Okavango Delta.
"Dumela / Hello! Welcome to Botswana!" We will be there to give you a warm Botswana welcome when you land at Maun Airport. You will meet your pilot for your stunning light aircraft scenic flight over the Okavango Delta and Chief's Island. This flight gives you a fish eagle's eye view of this amazing ecosystem. When you land at your remote bush airstrip within the Moremi Game Reserve, your guide will provide you with a snack pack on arrival and will be waiting to transfer you to your mobile camp with a game drive en route. The friendly, attentive staff will help you feel immediately at home and brief you on what to look forward to on your safari. The magic of a mobile camp becomes apparent as the sun sets and you enjoy drinks around the fire before a starlit dinner and a great night's rest after falling asleep to the sounds of the African bush.
Spending our first two nights camping in the Xakanaxa / Third Bridge area, we explore the surrounding wilderness on game drives during the day. The Moremi Game Reserve protects around a third of the entire Okavango Delta ecosystem – some 5 000km2 (1 930 square miles).
Day 3 & 4 & 5: Camping in the Khwai Area of the Moremi Game Reserve
Following an early breakfast, we pack up the camp and continue our journey to Khwai, stopping for a bush picnic lunch en route. The Khwai River forms the boundary between the reserve and the local Khwai Community Area. We spend the next three nights camping at a campsite in the Khwai area of Moremi Game Reserve. You will also experience a 2½-hour mokoro trip, discovering channels and lagoons at a relaxed pace in a traditional dug-out canoe. 
Day 6: End Maun
Following breakfast we head back to Maun where a picnic lunch will be served en-route. You will be dropped in Maun around noon – 1pm for your onwards arrangements.
NOTE: Although we make every effort to adhere to schedules, itineraries and activities, these are subject to change in light of changing local conditions (weather and roads) as well as availability. We reserve the right to change to a motor boat cruise subject to local conditions. You will be notified accordingly. Rates are subject to National Park increase by Botswana Government without prior notice.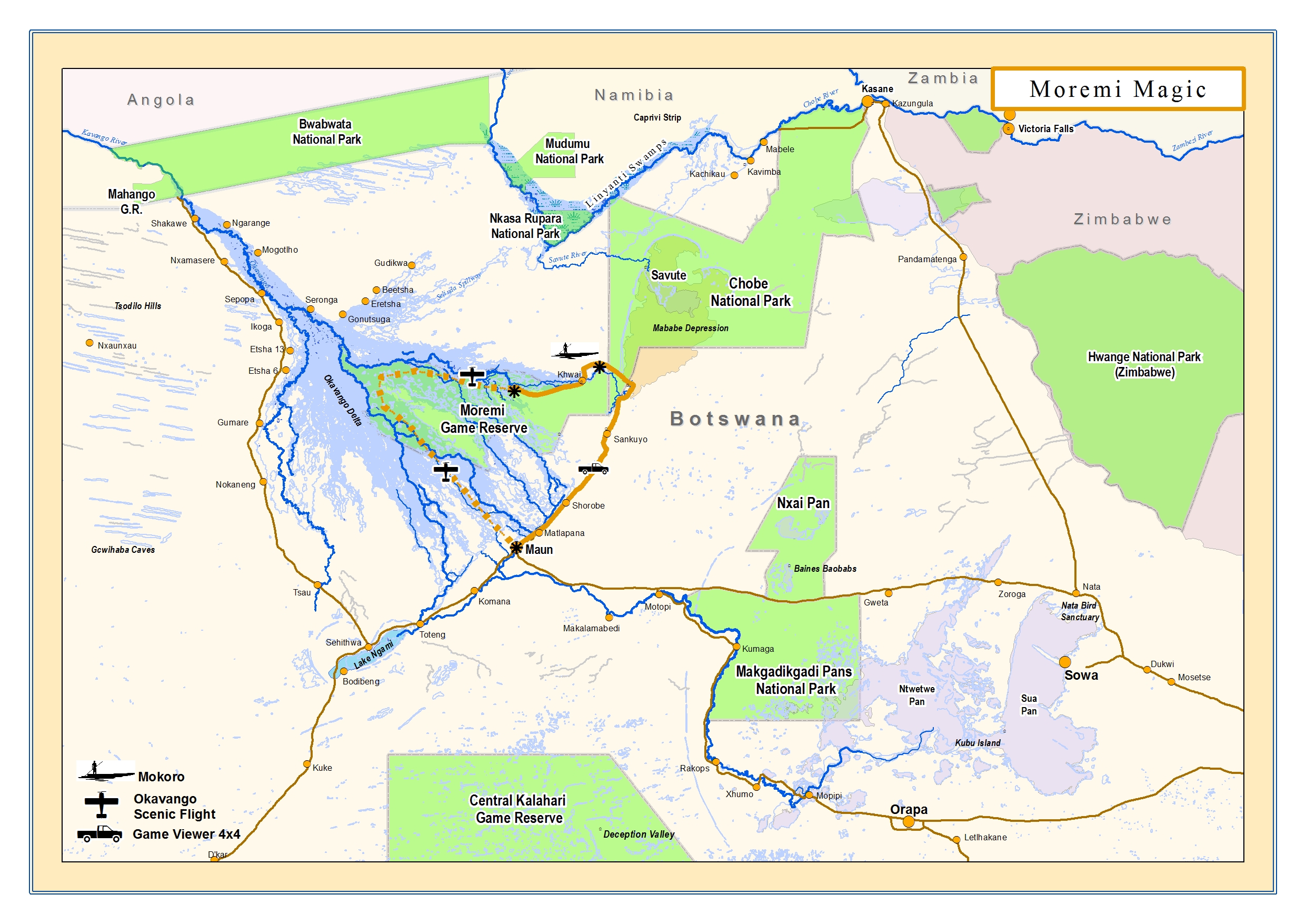 Okavango Delta & Moremi Game Reserve
The Okavango is a unique ecosystem, an inland delta situated in the middle of the largest stretch of continuous sand in the world – the Kalahari basin. This wetland lies like an oasis in an otherwise inhospitable landscape. Where land and delta meet, a mosaic of pans, grasslands, forests and lagoons provide an extremely rich and diverse habitat in which a multitude of animals and birds flourish. This wetland is one of the natural wonders of the world, and is a fragile ecosystem that remains one of the world's least spoilt and most beautiful wildernesses, and is home to various unique species e.g. sitatunga antelope and red lechwe.
Moremi Game Reserve is situated in the eastern corner of the Okavango Delta. Moremi is one of the most beautiful and varied reserves found on the African continent with huge concentrations of wildlife and incredible scenery. The reserve consists of both swamped areas e.g. Xakanaxa, and dry-land areas e.g. Khwai.