The guide on any holiday is critical – he needs to be informed, knowledgeable, sensitive, with a good sense of humour and fun.
And this is especially true on safari where you spend many hours with your guide. We therefore choose our guides very carefully and believe we have a wonderful team that will give the best safari possible.
Our guides are all excellent all-rounders, but each have their own unique speciality
Our guests have this to say about them :
All our guides are very good all rounders but each have their own unique specialities: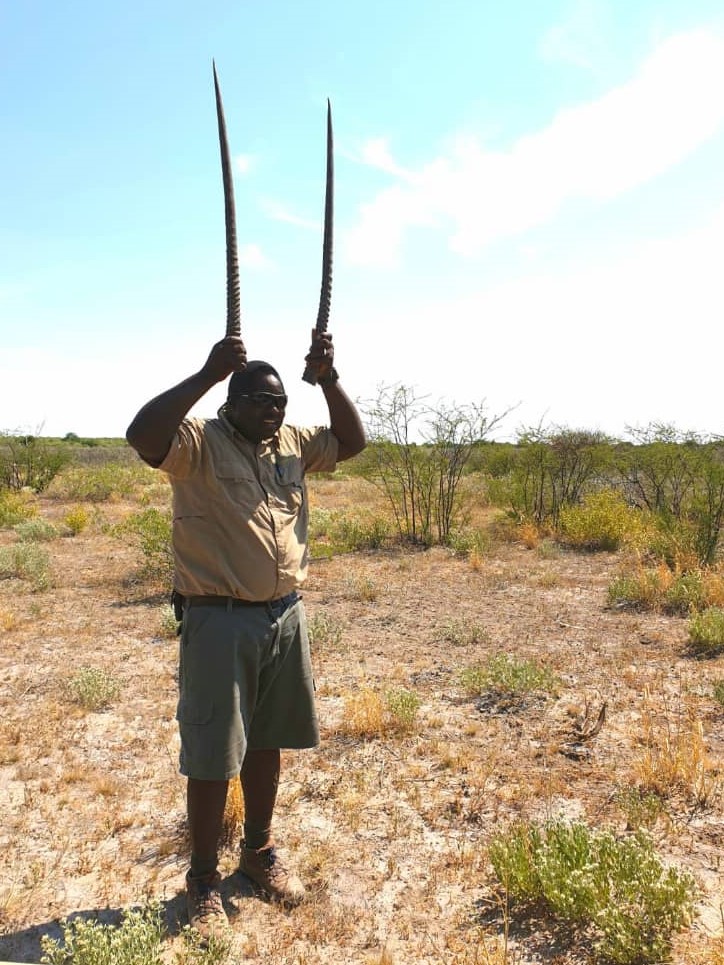 Paul Gaesengwe
Why this job?
I grew up in a rural area where you see animals on your door step daily.
My grand father was a traditional doctor was the main drive behind my passion as he used to take us while doing some of the daily activities.
Bush moment
I was on safari at Linyanti and we were watching a herd of buffalo when we heard a lion roar.  We quickly abandoned the buffalo sighting and went towards to area where we heard the lion.
The pride male was fighting against three intruders of which he won the fight single handedly.  We watched the fight for over an hour!   I will never forget this sighting, a real life time experience!
What our guests have to say
Great sense of humor and entertaining knowledgeable and helpful with all aspects of safari
Awesome, fun and really knowledgeable
With Paul nothing is too much trouble
Excellent in every aspect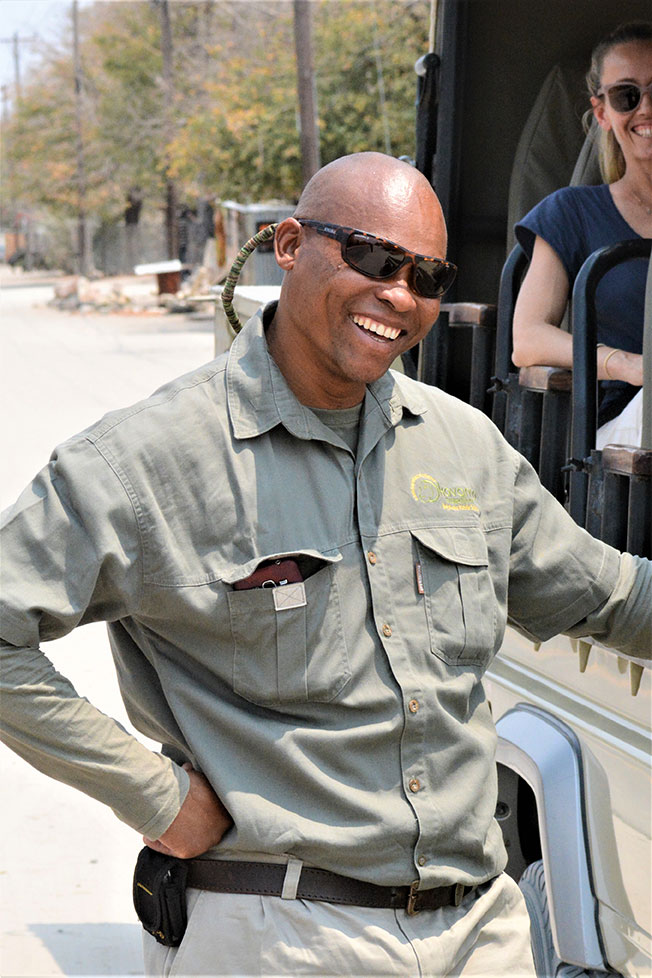 Sam Mopalo
Why this job?
Having been raised in a guide's family where my father, uncle and cousins were all guides, my passion for the bush came from their stories and the light that shone through their eyes as they retold these stories. This on top of having grown up in Maun (The Gateway to the Okavango Delta) and being surrounded by wildlife and the beauty of nature, I fell in love with the wildness and so it became my career. I have now been guiding for over 17 years and have the same passion and love I have for the bush as I did when I began. I love sharing my passion and my home with people, and as I remind every guest, I have the best job in the world.
Bush moment
During an afternoon game drive, on a very hot day of middle October I went to visit one of the water holes known as Pump Pan in Savuti. We discovered a hippo in the water, a small bachelor herd of elephant and the famous lion pride called the "Marsh Pride ".
All of the animals were drinking together at the same water hole. A herd of buffalo comprising 7 males and 1 pregnant female joined the other animals to drink. But then lions started to show a strong interest in the buffaloes. The pride observed them and chose the easiest target… the female! The pride male brought her down after a relatively short chase proving that male lions are competent hunters even in the presence of lionesses.
What our guests have to say
Sam is warm and knowledgeable – excellent
Sam is an incredible guide with a seemingly endless knowledge of Botswana and its animals
Sam is very knowledgeable and easy going
Sam is great fun and very knowledgeable
Sam is the best guide. He made sure we had a chance to see everything!
Sam couldn't have been any better
Sam is very generous with his time and knowledge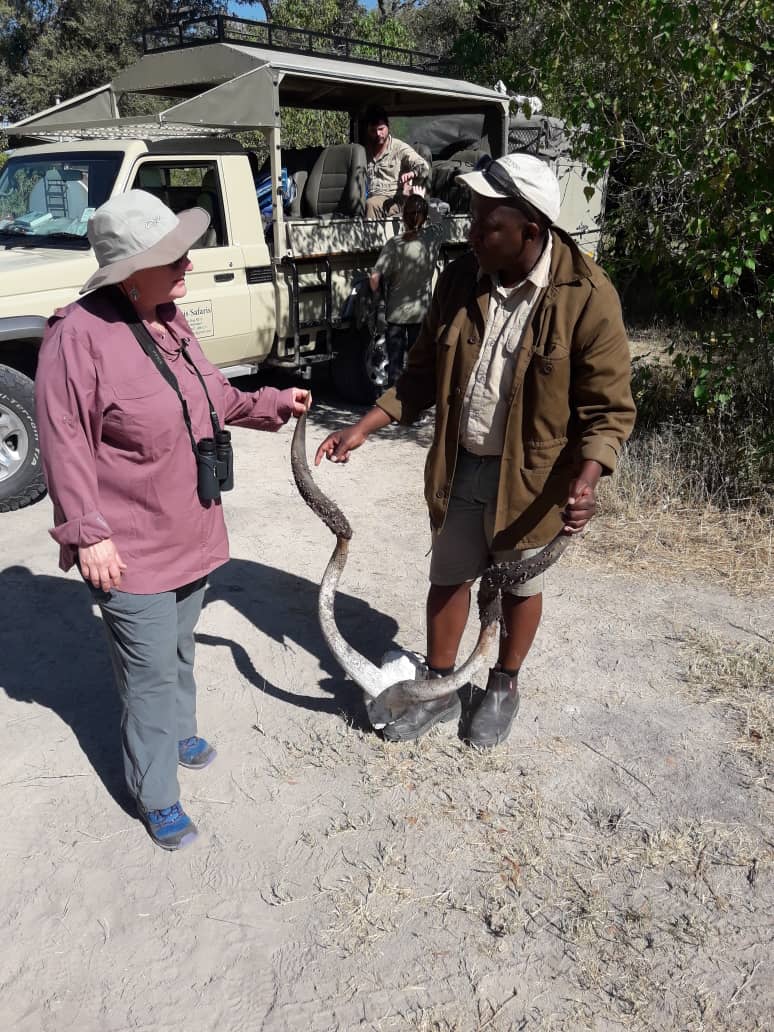 Thabang  (TH) Kgosietsile
Why this job?
As a person who is in love with nature and wildlife in general – this is the perfect job for me. I love to meet different people from different cultures and nationalities.  So all in all being a professional guide was the PERFECT option for me.
Bush moment
While out on a nature walk (which is one of my favourite activities), it was a quiet morning with regards to animal sightings.  I decided to go to the edge of the island to find a termite mound to get higher up for a birds eye view with my guests.
Little did I know that the same area that I was heading for with the termite mound… there was also a lioness feeding on a lechwe.  As I went up the termite mound for a better view I felt a sudden movement happen within a split second… the lioness mock charged us and was so close that the guests didn't have time to take ANY photos and then she just walked back into the thickets as if nothing happened.
We move about 40 metres away and I stopped to ask the guests if everyone was ok and can we continue?
One of the gentleman said, "TH wait first!  Where is my wife?"
"I am here honey" his wife replied.
Everyone had a great laugh and we all carried on with our walk.
What our guests have to say
TH is a funny young man with a good sense of humour
TH has good bush knowledge
I enjoyed my stay in the bush on safari with TH
Morgan Matengu
Why this job?
I love being in the wilderness and sharing it with people from all over the world. I love learning about new cultures and sharing mine. I really like the quietness of the bush and the sounds of nature.
Bush moment
In Savuti in 2005 long after my guests had tucked in for the night I went to my tent for a bucket bath. Guides bath out of buckets its quicker and easier than a bucket shower. I hung a paraffin lantern in the branch of a tree and placed my full bucket of bath water nearby undressed and soaped up, problem was a leopard also had intentions for the bucket of water. Savuti was very dry that year. She mock charged me to move away from the water but as I had soap in my face I never really could see properly, so I did not move. No problem to the leopard as I did not move she simply lay down not 1m from me. I called out to the camps staff but they ignored me thinking I was joking but I insisted and eventually they came to my aid by clanging some pots together and the leopard moved away into the darkness. She meant me no harm but really wanted the water… we left a bucket of water out for her and when we went back in the morning we found her tracks around our bucket. She got her water!
What our guests have to say
Morgan went the extra mile to make our stay memorable

Morgan's respect and affection for Chobe and its wildlife is infectious

Morgan has been fantastic he is very knowledgable and engaging